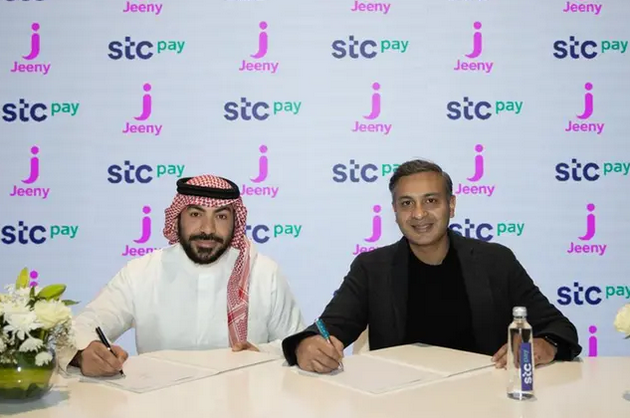 Jeeny announces strategic alliance to enhance payment options for ride-hailing drivers
Jeeny, the Middle East's fastest growing ride hailing application, announces a new strategic partnership with STC Pay, the developer of the largest digital wallet in the MEA region, to integrate STC Pay as the main payment method for Jeeny drivers.
This partnership is a testament to Jeeny's unwavering commitment to improving driver services and delivering accessible mobility in Saudi Arabia. The alliance will bring new levels of convenience and efficiency to the earnings distribution process of drivers and make the collection process smoother, by allowing them to seamlessly withdraw their income directly from the Jeeny app to their STC wallet.
"This partnership marks a significant step in our journey to equip drivers with the resources they need to reach their earning potential," stated Eugen Brickius, Co-CEO of Jeeny. " From a technology perspective, this partnership is integral to our mission to differentiate Jeeny from its competitors. Our aim is to support our drivers through technology by giving them more options to manage and move their money in real-time. Empowering drivers is what sets us apart in the highly competitive ride-hailing industry, and that is our top priority."
The process of incorporating STC Pay into the Jeeny app has already started, with the launch of customization and automation features imminent. The objective is to offer a seamless digital experience where drivers can easily take care of their financial matters. Jeeny is utilizing innovative payment technologies to provide drivers with secure and convenient transactions.
Additionally, the Financial Sector Development Program, a component of Saudi Arabia's Vision 2030, aims to encourage the adoption of digital payment solutions and make the country cashless by 2025, with a target of 70% non-cash transactions. Hence, this alliance is in line with Jeeny's goal of driving innovation and making digital payments more accessible.
Commenting on the fintech and technology alliance with STC Pay, Hammed Ehtesham, Co-CEO at Jeeny said: "By teaming up with STC Pay, Jeeny is leading the charge in transforming the payments industry. Our goal is to provide unparalleled levels of convenience, efficiency, and automation to the transaction process. Not only will this solution address cash flow challenges, but it will also help to enhance their daily lives by enabling secure and instant access to their earning."
"We are thrilled to join forces with Jeeny to offer their drivers a safer and more user-friendly way to handle their income," stated Megren Ahmed Alshammary, Partnership and Alliances Director at STC Pay. "This partnership aligns with our mission to promote financial inclusiveness and make digital payments a possibility for everyone."